I have commented on copyright infringement in regards to video games before in some of my previous posts, but I have been thinking lately about what this means for other creative mediums. In particular, can fashion be protected under copyright law? In this day and age, with 3D printers, online shopping and very skilled seamsters cheap knock-ff of very expensive and popular items can be found across the globe in attempt for these people to make a quick bit of easy cash. In 2015 EU's Office for Harmonization in the Internal Market conducted a study that found that 9.7% of all items on the market were counterfeit, and as a result accounted for around €26.3 billion of revenue lost every year. While it may not be a mainstream issue, it is clearly a huge problem for those who wish to work within such an industry.
Why else does this matter?
In the 2006 movie The Devil wears Prada, Meryl Streep's character has a little speech about why fashion matters and the end punch line is that it all matters, because you live your life in it. We spend every day wearing clothes, that while we do not think are overly important, they still say who we are: Our personal style helps to create first impressions to those we meet and how we carry ourselves through society. Trends in fashion also reflect the issues of society at any given time: punk rockers dressed the way they did to silently protest against the conformity seen throughout the rest of society, just as vegans can now wear clothing that has little to no impact on the environment and causes no harm to animals. As much as we don't want to admit that we care about 'fashion', we all care about style in that we all care about how we dress ourselves, even if it is only for the feeling of power that is gives us to wear what we like, how we like and when we like.
Blair Waldorf (played by Leighton Meister) in Gossip Girl
How does the law approach it?
As with everything to do with law, interpretation is everything. Lucky for us, fashion is all about interpretation and based on the statute alone, fashion is not actually mentioned under the Copyright, Patents and Design Rights Act 1988. Under this law, a creative medium needs to fall within one of the categories within the legislation and while there is some leeway as to how the courts label fashion, it is most likely to fall within the definition of 'artistic craftsmanship'. Now this is not really helpful, but thankfully there is a LOT of case law to refer to in order to try and make a decision.
In Hensher v Restawhile, the House of Lords stated hat a prototype for a distinctive three-piece lounge suite, which was intended for mass production, was not artistic although the Lords differed in their reasons as to why. Then there was a case about a baby's cape which was held not to be artistic because there was no intention to create an artistic work, just as a patchwork bedspread was not deemed to be artistic because although the designs were "pleasing to the eye" they were not sufficiently creative. This has been discussed in fashion relevant case law where sweaters and cardigans were held not to be artistic. Although the items in question had been displayed in the V&A Museum, they were exhibited as examples of developments in fashion rather than as works of art. One case in recent years that has also addressed this issue was related to the storm trooper helmets from the Star Wars movies, where the High Court held that the helmets were not artistic because their purpose was not aesthetic. The Supreme Court later held that the helmets were not sculptures, and could not be protected in that way either, which brings to attention the need for aspects of fashion to be protected from copyright infringement.
The majority of cases seem to show that there is a lot of debate over whether fashion can count as 'artistic': as a rule of thumb it seems the work must be aesthetically appealing to the general population or must have been created as an artistic work. To me, art and an 'artistic' creation should make you feel something. Now this may be confusing to those who are interested in fashion: How anyone can look at Charlize Theron in that gold Dior dress, or stare at a pair of Louboutin high heel courts and not see the art in them might as well be dead inside.
                                   Charlize Theron in the Dior J'adore perfume advert
On the other hand, "craftsmanship" is potentially easier to meet. Knitting and tapestry-making have been treated as crafts, usully on the basis that they are one off creations that were intended for artistic work. In Hensher v Restawhile, Lord Reid and Viscount Dilhorne said that the requirement for craftsmanship implies that a work must be hand-made whereas Lord Simon held that "craftsmanship" cannot be limited to handicraft and that the word "artistic" in itself is incompatible with machine production. This therefore suggests that if a designer is to make a one-ff, limited edition piece of haute couture clothing that is not designed to be mass-produced, then this could potentially be protected under 'craftsmanship' and thus protected by copyright. But what does this mean for mass-produced clothing?
In short, the UK is still pretty slow on the protection available for fashion under copyright law. There have been many debates and papers on what can be done about this, with many of them pointing towards the European model of an open list: In France, Germany and even in the US, any work which is original can be protected by copyright. In France, the threshold for originality is a work which "bears the stamp of the author's personality" and in Germany copyright protects "personal intellectual creations". This allows for a much smaller threshold to be met by designers and as such less chance of them being copied without the author's consent. It also means that there is no need for long and complex case law or debate around the issue as it is simply stated within legislation and only needs to be discussed when it needs to clarified on a large scale. This appears to be not only the simplest option for designers, but also the easiest way for the UK intellectual property offices to keep an eye on potential infringements on the open market.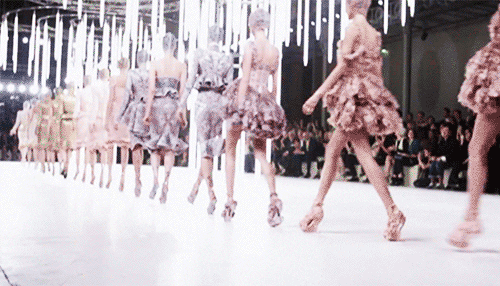 Here today, gone tomorrow
One potentially reason why there is no real need for there to be protection for fashion is because fashion is always changing: What is fashionable this week will most likely be forgotten about in a months time. Fashion is a constantly evolving aspect of society and while trends may come and go, the fashion industry is constantly in a state of innovation and trying to create pieces that have never before been seen. Trends are only meant to last a few years at the most, as anytime after that they either become iconic for the time period, or they become cringe-worthy (in some cases they can be both!).
What do you guys think? What would you want to see within the fashion industry?
T xx