Today's society has meant it is an exciting time to be a woman. Issues once seen as taboo are now being addressed by wider society, and women are now in a position to stand up for what they believe in and – most importantly –  have those concerns acknowledged and addressed throughout society. Issues that range from the glass ceiling and wage gaps to sexual harassment and gender stereotyping are now being addressed throughout society and steps are now being taken across the globe to have them addressed. With this in mind, there are now powerful and strong female role models to look up to throughout popular culture. So here are a few that have helped to shape the role that women play within society.
Wonder Woman
One of the most iconic women, Wonder Woman has always been a powerful and strong picture of a woman. Throughout comic history she has been one of the main power players in the DC universe and is to this day an iconic image of Girl Power. Her most recent portrayal by Gal Gadot in the 2017 movie received critical acclaim as not only being one of few movies to show women as powerful, fierce warriors instead of sexualised eye candy, as well as being one of the most successful superhero movies of the entire year. This film also highlighted what a difference female directors have compared to their male counterparts: Wonder Woman showed the Amazonian Women as fierce warriors prepared for battle, whereas the Justice League portrayed them as women who go to battle in short shorts and push up bras. Wonder Woman has been, and always will be, one of the key examples of just how strong women can be and just how much influence they can have on the people around them.
You don't stand a chance
Eowyn
The beautiful 'princess' of Rohan, she is introduced in The Two Towers as the deeply saddened and tormented niece of the King of Rohan. While her portrayl in the film is still one of a powerful woman, the book helps cement her as a true hero within the Lord of the Rings books. In the film, she is indeed doe-eyed and love-struck with Aragorn (but then again…what woman could remain cool with Viggo Mortsensen staring at them…we are only human) but even in the film she is determined to fight for what she believes in. She sneaks into the battle at Minas Tirith so that she can finally fight as an equal with her brother and help to protect her family's honour and her people. She defeats the Witch King. In the film, while she is scared (and rightly so!) she managed to fight him and kill him all while making a brilliant one liner: I am no man. In the book, she is even more of a powerhouse: While she is still infatuated with Aragorn, his unwanted comments about how a woman's place is away from a battlefield, she does not hesitate in calling out what a sexist ass he is being. She also laughs at the Witch King when he says that no man can kill him, because she is not a man and will smite him no matter how evil he believes himself to be. I mean….damn!
First introduced in The Two Towers
Arya Stark
It can be hard to pick just one powerful female lead within the Game of Thrones franchise, as George R R Martin makes most (if not all) of his female leads forces to be reckoned with. One of the most endearing of these though is Arya, the youngest daughter of the Stark household. While her sister grows to become a power player throughout the books (and TV series), Arya is consistently badass from the beginning: She is routinely disciplined for wanting to learn sword play rather than sewing patterns and makes her way through the story to become a fierce young warrior cable of even more powerful acts than her male counterparts. Throughout her complicated story arc, she learns how to make her way in a male dominated world and uses her wits to outsmart the majority of her peers at every turn.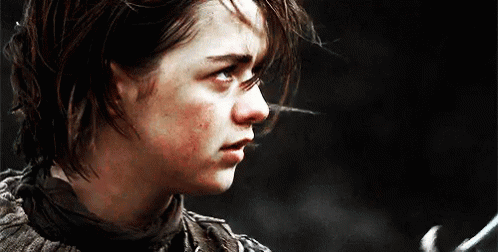 Valar Morghulis