PUBLIC SERVICE ANNOUNCEMENT: This game is currently free to download of the PSNetwork!
This weekend I spent most of my Friday night doing what any respectable 24 year old should be doing…playing a horror video game. I would like to say that I only did the game in sporadic play-throughs but no…I finished the game in maybe two nights. The first night, I had only just started, the story hadn't begun to ramp up yet and I was tired. But the second night, I could NOT put the controller down. I needed to see how it ended and how I did overall.
General synopsis
Until Dawn is a 2014 horror game that tells the story of a group of teenagers. The story begins with them all playing a prank on one of the girls, who in her humiliation runs out onto the mountain, in the middle of winter and ends up getting lost. Her sister goes looking for her, only for them to fall down the mountain to their deaths. Fast forward a year, and the same group of friends are back at the mountain to pay their respects and honouring their friends' memories. The characters are all varying degrees of generic teenagers: there's a lot of angst, lots of unrequited love, lots of love triangles and therefore lots of drama BESIDES impending death and destruction. This game gives you the chance to play as every character, each taking their turn to play out the story as it is happening.
The Butterfly Affect aspect
The Butterfly Effect is the idea that one little decision or action can drastically alter the future: A flutter of a butterfly's wings could cause a horrific storm 300 miles away. While it is far-fetched to think about it is still a really interesting idea, that all of our actions and our choices shape how our life turns out: One little chance meeting with someone on a train could mean you meet the love of your life, or being a few minutes late in the morning meant you never met that person to begin with. Until Dawn made it a bit more serious than that, making it very much a life or death situation, and the fact that the choices are timed forces you to make split second decisions that can alter the course of events following it. In the case of Until Dawn, this can determine whether or not the character you are playing as lives or dies.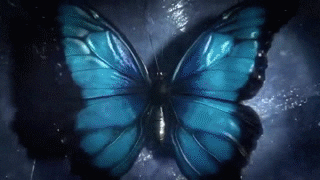 Game play itself
The game is similar to a telltale series game: Lots of cut scenes, lots of time to investigate places, quick time events and of course, timed choices. I am absolutely not a good person when it comes to shooting games, because try a I might I can not aim to save my life. These types of games suit me better: They feel like I'm watching a movie that I get to interact with, rather than having to try and beat countless enemies and complete quests. The story is awesome, as it keeps you really invested in what is happening: The only reason I stayed up for so long was because I needed to find out what would happen next.
The horror
This game is indeed a horror game though. It has jump scares galore, monsters that are scary as all hell and some genuinely tense moments: One of the scariest tasks is having to remain absolutely still (The PS4 controller has a motion sensor in it!) when a huge, screaming monster is circling you. The scares are also relatively clever, and are only used when really needed to progress the story forward. While some scares are very early on and are usually anti-climactic, it all helps to create that feeling of 'horror' within this game: What the characters go through, you go through as the player.

Just one of the horrible deaths that can occur through bad decision making
The characters
Most importantly though, the characters are multi-dimensional: One of my favourite characters actually came across as the biggest jerk in the beginning, but as the game progresses and you start to see the consequences of your actions, the characters become far more important to you…some can even become LESS important to you when you see how they react to little choices you make. This game gets you invested from the get-go and I think that is what's so enjoyable about it. Each character has their own set of personality traits, and you can also keep track on how every character views each other: Who is mad at who, who is fond of who, and who is most likely to leave you for dead just because you chose a seemingly small option. The characters are also surprisingly vast in personalities and it is nice to see them change throughout the course of the game.

Sam (played by Hayden Panettiere) and Josh (played by Rami Malek)
Overall?
Well worth a play! The game itself may not be an overly long game, but with the amount of stress you go through you'll probably be thankful for it! It is a very fun game either way, and the fact that every decision leads to a different series of events, the ending can be different each time you play it. It's fun just to see how each decision can change things and, more importantly, which decisions ultimately do nothing even though it seems like a super hard choice.
Have any of you guys played it? Let me know below your views on the game 🙂
T xx