So this weekend was PRIDE weekend in London…and I feel it needs to be celebrated! July is also PRIDE month, and it is also something I feel very strongly about. I feel it's important to acknowledge how far our society has come and how it has changed over the years.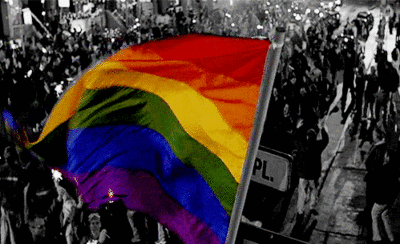 First off, I would like to clear the air of something: I am not gay, nor do I really fall anywhere on that spectrum of sexuality. At least, I wouldn't say I would. I am pure hetero and so while PRIDE does not hold as significant a place in my own being, I am very proud to live in a society where everyone is welcome and where love is, quite simply, love. I do not believe that people 'need' labels but I also appreciate that many people like to have labels as a way of identifying themselves. Being the lovey dovey ball of equality that I like to think I am, as long as you are happy and you are healthy, then keep on doing you!
The power of PRIDE
It is no secret that the LGBT community (lesbian, gay, bisexual and trans) have had a very rough time of things throughout history: In some parts of the world this is still seen, where those who are gay are seen as 'sinful', 'unnatural' and even 'disgusting' by some societies and cultures. However, as people became more understanding and more accepting of these different sexual orientations, society as a whole began to view them in a new light. PRIDE is a way for society to celebrate how much has changed and every year these changes are becoming more and more plentiful. Granted, it may be a slow process at times, but as long as we continue moving forward then we are moving in the right direction!
Why is this important?
I am a strong believer that people should never feel embarrassed or ashamed of who they are as a person. I only have two rules when it comes to sexuality: 1) It must be legal and 2) there must always be consent. Granted, these two things go hand in hand…if there is no accepted consent, then this is can not be legal, and that is when I have a problem with it. I am all for self-expression and self-discovery and I appreciate that this is not always a quick process. I am a very open-minded person and (I like to think) I do not judge people based on what their sexual preference is: You like whips and chains? Go for gold. You want to wait for marriage? Good on you! You want to dress up as a giant panda and have sex with other people dressed as foxes and badgers? You do you Boo. I believe that this is important to acknowledge because, whether we like to admit it or not, our sexual orientation makes up quite a large part of our identity and is something that should be talked about more in society. I am not saying we need to have sit down, in depth discussions about what everyone likes done to them in the bedroom, but I also don't think that people shouldn't celebrate their love simply because it is not considered the societal norm of the time.
PRIDE is also important because it helps to celebrate something that is very rarely seen in the news: Love. Pure and simple love. The news is always full of such horrible and depressing stories that it can be hard to see any good in the world half the time, and the media like to create panic and fear in society, because then we continue to buy papers and listen to the news so we can see if these things will ever end. But I think PRIDE allows everyone, in every nation and (mostly) every country, to celebrate all that we have in common with each other rather than the differences. I may not understand what it is like to be attracted to someone of the same gender, but I do understand love. I understand, in my hopeless romantic way, that everyone has someone out there for them and that should never be forgotten.
Can we progress more?
Absolutely. Society is always changing and with every new generation there is more discussion about what it means to be human. In recent years, the discussion around gender especially is becoming more and more prominent in society. The idea of being 'gender fluid' or even 'gender less' is no longer such an abstract concept, because we now live in a society where 'boy things' and 'girl things' are becoming more intertwined. One of the ways society lately is accepting this concept was when the MTV Movie Awards did away with 'Best Actress' and simply had 'Best Actor', even more fitting that Emma Watson who founded the HeForShe campaign won it for her role in 'Beauty and the Beast'!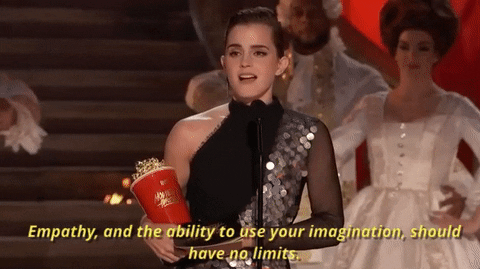 G'warn girl!
Final thoughts
What I would like to say to everyone, is that you should never be ashamed of who you are. I wish I had learnt this lesson when I was younger because it would have helped me avoid some truly horrific years of self-loathing and bad habits. Love should always be celebrated and no matter who it is that you love, celebrate that! I also don't mean love in the strict romantic term, as one of my 'Great Loves' is actually my best friend! Love each other, and treat each other with understanding, respect and an open mind. Treat everyone how you would hope to be treated, and if peop
le can not do that for you, then you don't need those kinds of people in your life.
What does PRIDE mean to you? Let me know in the comments, and follow me for more discussions and debates.
T xx