In modern day pop culture, it seems that if something is 'gory' then it will automatically be 'scary'. But is this really true?
I will be the first to admit that I am a pretty squeamish person: I passed out twice just getting my ears pierced so you can imagine what I'm like around actual blood! But that being said, I don't find blood 'scary' as such. I don't have nightmares about blood rivers down corridors, or get freaked out by Red Weddings (well, I do but not for this reason!). Grossed out, sure…scared? Not so much.

Scary, or just plain gross?
Why is blood considered scary?
For one thing, having an actual phobia of blood is one of the most common phobias around so this may be why horror movies, scary games and Halloween costumes have relied so heavily on it to be a scare tactic. No one really knows why it's a phobia (early childhood trauma or just something on the inside now being on the outside?) but with so many people affected by it, it is a very easy tactic to go for. Plus, it's relatively easy to make fake blood: Any costume shop will have a fake blood pack, or failing that you can find a simple recipe online that can save you a couple of quid.
Does it still work?
Personally, I don't find blood scary. As i said before, it grosses me out but it doesn't scare me. Most of my friends when asked this question, they agree that blood is gross rather than scary. The reason most people don't want to watch 'slasher' films is because the blood makes them feel queasy, and most chances you spend your time waiting for the gore to be over rather than paying attention to the story. Now I will admit that in some cases, blood can help a movie: The very first Saw for example, was amazing! It had the right amount of gore to keep you interested as well as lending to the story arch of increasing desperation. But everyone can agree that as the franchise went on, it became more focused on how imaginative the deaths were rather than whether it actually add to the story.
Have we become desensitised?
I like a good horror film, but I love a bad horror film. On Netflix, Amazon Prime, even some TV channels, they all have a wonderful selection of B-Class horror movies. Story aside (if there even is a story) the 'horror' aspect of it is normally nothing more than blood and guts. But these days, it almost seems the aim to make the gore so shocking that it is laughable…the more blood used in a death scene and the funnier it seems to become. And i don't mean funny in a 'haha jokes' I mean…it is just laughable in it's absurdity. But are we becoming desensitised to this type of 'violence' or is it simply because it is so over the top we automatically know that this can not be real? While blood is far more common in all films these days (especially those with some sort of violence), we as a society seem pretty sturdy when it comes to blood and guts. However because we are so used to seeing blood even in our TV shows, horror movies now have to go above and beyond with the 'gore factor' in order to truly scare us. It seems that most horror movies theses days though are aiming to be so outlandish that they'll become cult classics, or have to steer clear of blood all together to even be taken seriously in the franchise.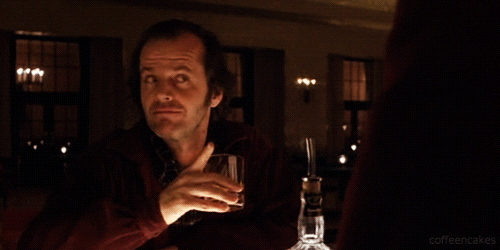 What makes for the best horror?
While we all watch a film to see something that is very different to our normal everyday  lives, the joy of horror movies is that they all try to play on the reality: These movie scenes have to convince us that they can happen in real life in order for us to be scared of them in the first place. The more camp the horror, the less likely we are to be scared of it. Some of the best horror films (at least, the best in my opinion) are the ones that play on our reality in order to make us fear that what we have just seen could very well happen to us.
How do you guys feel about gore in horror films? Let me know in the comments, and recommend your favourite for me to watch this weekend!
If you liked this article, please have a look at some of my other articles and make sure to subscribe and follow me!
T xx